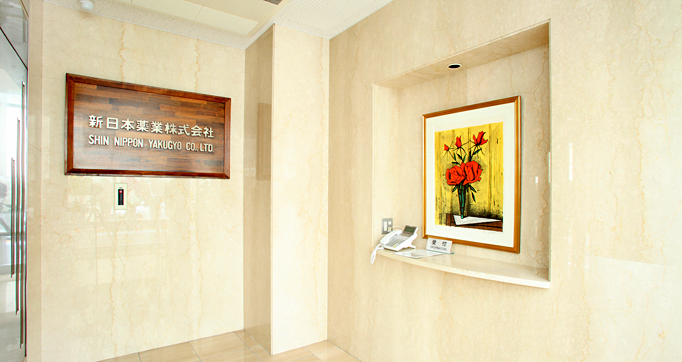 Since our establishment in 1951, Shin Nippon Yakugyo Co., Ltd (SNY) has been contributing to the development of the Japanese Pharmaceutical Market by introducing new material/technology and by the importing and exporting of raw materials. To meet the needs of our customers, we have expanded our operations to not only APIs, but also health foods, cosmetics, electronic applications, commercial solvents, etc. through our global network. We support all steps from development to production.
SNY provides a comprehensive range of services to foreign manufacturers in the pharmaceutical industry to assist them to successfully enter into the Japanese market. These services include acquisition of Accreditation for Foreign Manufacturers and Registration of Drug Master Files (J-DMF) for Active Pharmaceutical Ingredients (APIs) on behalf of foreign manufacturers.
Corporate Name
Shin Nippon Yakugyo Co.,Ltd.
Established
April 18, 1951
President
Hideo Tsunoda
Capital
80 Million Yen
Head Office



SNY Bldg. Tokyo

15-10 Nihonbashi-Kodenmacho, Chuo-Ku, Tokyo, 103-0001, Japan
TEL:+81-3-3667-5941


Osaka Office



SNY Bldg. Osaka

3-4-16, Utsubohonmachi, Nishi-Ku, Osaka-city, Osaka, 550-0004, Japan
TEL:+81-6-6445-7101


Nanko L & L Center



SNY Bldg.
Nanko L & L Center

8-2-55 Nanko-Higashi, Suminoe-Ku, Osaka-city, Osaka, 559-0031, Japan


GMP-Compliant Warehouses for Pharmaceutical Raw Materials
Tokyo Head Office Warehouse
Osaka Office Warehouse


Nanko L&L Center (Osaka)


Odaiba Warehouse (Tokyo)
Yokohama Warehouse
Laboratory
Tokyo Head Office Laboratory
(including the laboratory newly set up at segregated area in Tokyo head office for evaluating the highly potency substances)
Nanko L & L Center Laboratory
Business Operations
Sales, Import & Export of the following:Pharmaceuticals / Pharmaceutical Intermediates / Quasi-Drugs / Cosmetics / Medical Devices / Veterinary Medicines / Agricultural Chemicals / Reagents / Chemicals / Food Products / Food Additives / Animal Feeds.
Banking Relationship

| | |
| --- | --- |
| MUFG Bank, Ltd. | Nihonbashi Chuo Branch Kawaramachi Branch |
| Mizuho Bank Limited | Nihonbashi Chuo Branch |
| Sumitomo Mitsui Banking Corporation  | Nihonbashi Chuo Branch |

Licenses
Pharmaceutical Manufacturer License Holder(Category: Packing, Labeling, Storage)
Pharmaceutical Wholesales License
Cosmetics Manufacturing and Sales
License for Manufacture of Veterinary Drugs(Category: Packing, Labeling, Storage)
Stimulants Raw Material Handler
Psychotropic Importer
Psychotropic Exporter
Poisonous and Deleterious Substance Importer
General Poisonous and Deleterious Substance Seller
Professional Affiliations
Japan Pharmaceutical Trader's Association
Tokyo Yakuji Kyokai
Tokyo Chamber of Commerce and Industry
Osaka Chamber of Commerce and Industry
Japan Cosmetic Suppliers Association
Japan Cassis Association
Japan Food Additives Association
Pharmaceutical and Medical Device Regulatory Science Society of Japan
Japan Bioindustry Association
International Society for Pharmaceutical Engineering, Inc.(ISPE)
Japanese Society of Generic and Biosimilar Medicines (Supporting member)
Subcidiary
Central Chemical Co., Ltd.
Address
15-10 Nihonbashi-Kodenmacho, Chuo-Ku, Tokyo,
103-0001, Japan
TEL:+81-3-5614-2291
Business Operations
Raw Materials of Health Foods
Participating Exhibitions
Participating Exhibitions

| | |
| --- | --- |
| CPhI Japan: | 2002, 03, 05, 06, 07, 08, 09, 10, 11, 12, 13, 14, 15, 16, 17, 18, 19 |
| CPhI Worldwide: | 2006, 07, 08, 10 |
| CPhI China: | 2005, 06, 07, 08, 09, 10, 11, 12, 13, 14, 15, 16, 17, 18, 19 |
| Health Ingredients Japan: | 1999, 2000, 01, 03, 04, 05, 06, 07, 09, 10, 11, 12, 13, 14, 15 |
| Tokyo Health Industry Show:  | 1999, 2004 |
| ifia JAPAN: | 2001 |

CPhI Japan 2019
CPhI China 2019